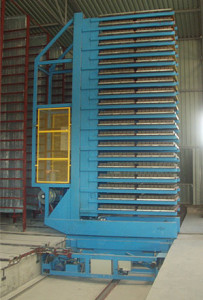 Grupa transportowa

LOWER TRUCK, UPPER TRUCK – WG-16/2
Transport group (lower and upper truck) – provides fully automatic transport of pallet piles with products from the wet line to the ripening area and from the ripening area to the packing area.
Transport set (Group) – consists of a transverse transport platform and a multi-level – multi-fork returning truck. The platform is used for transporting a fork-lift truck between the pallet stacking and destacking lifts and drying rooms. It moves on a railway in a concrete channel. The fork-lift truck is used for taking swelled pallets with loaded fresh products from the stacking lift and transports them to the drying room; next, it takes a pallet pile with dry products from another room in the drying area and transports it to the destacking lift.
The framework construction is made of steel profiles and features gear-motors with brakes and hydraulic servo-motors – automatic interlocking at platform operating positions and lifting of individual frames in the multi-fork truck (two movable frames and one immovable frame). Every element of the transport group is fully adjusted to automatic work, although all operations can also be carried out manually.
Technical Data*
Power supply
400V, 50 Hz
W.G drive engine power
9,5KW
W.D-20 drive engine power
9,5KW
Device weight
4800 kg
Number of levels:
Low product
16×2
High product
16×2
Lift height:
Low product
300 mm
High product
600 mm
*Technical data specified for an exemplary model – upon request, we can manufacture devices of parameters compliant with Customer's requirements