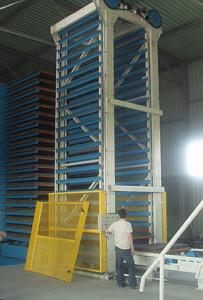 STACKING LIFT – WS-16/2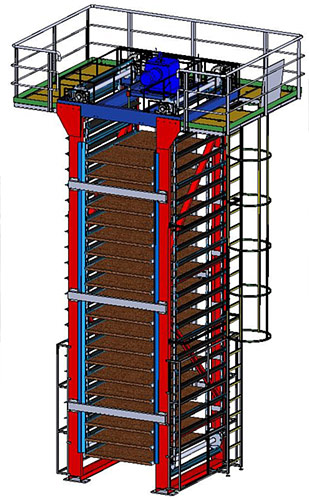 Stacking lift – a device which can be used both for stacking pallets with a product (collecting pallets with a product from conveyors from the wet side and stacking thereof, and transporting it onto the upper truck) and destacking (collecting pallets with a product from the upper truck in the drying room, and transporting them onto a conveyor belt). Pulling chain with angles mounted transversely, driven by means of a toothed-chain transmission with a gear-motor with a brake.
Technical Data*
Power supply
400V, 50 Hz
Drive engine power
11KW
Device weight
4800 kg
Number of levels:
Low product
16×2
High product
8×2
Lift height:
Low product
300 mm
High product
600 mm
*Technical data specified for an exemplary model – upon request, we can manufacture devices of parameters compliant with Customer's requirements.