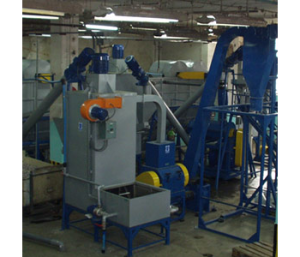 Linia recyklingowa PET
The recycling line is used for processing of plastic waste into raw granulate called recyclate. The presented line is particularly suitable for the treatment of waste plastic bottles ("pet" type). The obtained recyclate is a semi-finished product for processing for various useful substances.
We offer lines for recycling in several configurations, differing mainly in performance and the ability to purify the resulting recyclate. The line capacity is adapted to the material grinding efficiency of the mill.
The basic types of lines are manufactured:
– with UR 400 mill – with a capacity of about 200 kg/h and 40-55 kW of installed power.
– with UR 600 mill – with a capacity of about 500 kg/h and 65-80 kW of installed power.
Differences in installed power depend on the complete line (increased treatment ability, type of dryer, different functions).
Manufactured lines purify recyclate by washing it in ordinary water. A typical line consists of a threshold-belt conveyor, which loads the raw material to the mill. The grained product is passed to the washing–rotating set made of stainless steel by the screw conveyor. This set consists of three main centrifuges, special centrifuge (the so-called cork centrifuge), two washing-segregating baths and two screw conveyors. The line is completed with crushing-drying mill equipped with pneumatic exhaust air. It includes a water system consisting of pipes, fittings and installation of sewage pump made of standard PVC fittings and valves. An important advantage of our line is no requirement to remove the bottles labels, but also the nuts with the so-called rings. This advantage is not observed in the known recycling lines manufactured abroad. Recycling lines are a complex product, adapted to meet different requirements. Therefore, their manufacture process is individual and each time adapted to individual customer's requirements.

1. UR-400 or UR-600 mill with screw conveyor (1 set)
2. Washing bath with conveyor (1 set)
3. Centrifuge (1 set)
4. Screw conveyor (recyclate) (1 set)
5. Granulate dryer (1 set)
6. Base for dryer (1 set)
7. Manufactured product (1 set) (recyclat