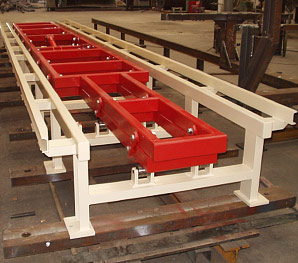 "KANGUR" K/L CONVEYOR
"Kangur" – type conveyor – a stable construction made from profiles and square pipes. Movable frame with rollers on bearings. Pallets moving sideways. Pallets are lifted by means of a hydraulic servo-motor; the frame is moved by means of a gear-motor using a chain transmission or a hydraulic servo-motor. Construction of the frame allows for collection of a single pallet from the conveyor belt under the destacking lift, and, at the same time, for setting distance among following pallets necessary for packing the product.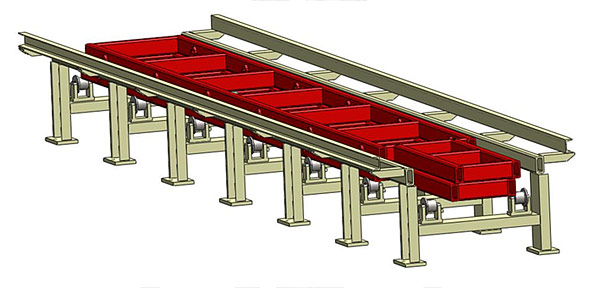 Technical Data*
Lifting servo-motor stroke
150 mm
Frame-moving servo-motor stroke
1800 mm
Height
5700 mm
Width
3000 mm
Length
12000 mm
*Technical data specified for an exemplary model – upon request, we can manufacture devices of parameters compliant with Customer's requirements.